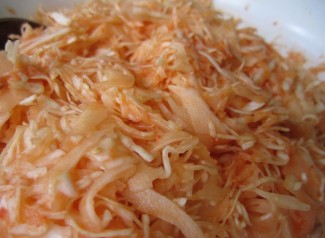 This is a sugar-free homage to the delicious slaw they serve at Coconuts Café in Kihei, Maui.
Ingredients
4 tomatoes
1 red bell pepper
¼-½ cup virgin olive oil, to taste
Juice of 2 lemons or limes, to taste
½ a chili, to taste
2 cloves of garlic, to taste
½" of ginger, peeled, to taste
5-7 pinches of stevia, to taste
Salt, to taste
1 cabbage
Instructions
In a high powered blender, combine the tomato, bell pepper, oil, lemon juice, chili, garlic and ginger until smooth.
Add the salt and stevia to taste. The dressing contains the five elements every dish "should have"– salty, sweet, bitter, spicy, and sour. Adjust this balance to your liking.
Slice the cabbage into thin strips.
Cover the cabbage with the dressing and serve. Enjoy!
The dressing will keep for 3 days refrigerated.