Vegetable Curry Noodle Stew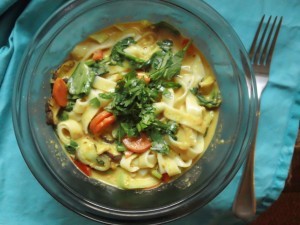 Warming ginger, chili, and turmeric make this Malaysian-inspired dish a staple for chilly weather.
Ingredients
1 (8-oz) package udon noodles
2 Tablespoons coconut oil
½ cup very thinly sliced red onion
1 cup thinly sliced shitake mushrooms
1 Tablespoon fresh grated ginger
1 Tablespoon fresh grated turmeric
3-4 cloves garlic, minced
1 (13.6-oz) can coconut milk
¼ cup peanut butter
3-4 Tablespoons red curry paste
½ cup vegetable broth
1 cup carrots, sliced into matchsticks
1 cup bok choy stems, chopped finely
1 cup red pepper, thinly sliced
2 cups greens (bok choy leaves, spinach, etc.)
½ cup chopped fresh cilantro, for garnish
Instructions
Cook noodles according to package directions. Drain, rinse in cool water, and set aside.
In a large skillet, heat coconut oil. Add onions and cook until just soft. Add mushrooms, ginger, turmeric, and garlic and cook for five more minutes, or until mushrooms soften.
In a small bowl, whisk together red curry paste and peanut butter with a few Tablespoons coconut milk until smooth. Add curry mixture, remaining coconut milk, and vegetable broth into the skillet. Stir to blend.
Add carrots, bok choy, and red pepper and bring to a low boil. Reduce heat, and cook until vegetables are soft, about five minutes. Add greens and stir to wilt.
Divide noodles between 3 or 4 bowls. Ladle curry vegetable sauce over noodles until noodles are swimming in sauce. Garnish with cilantro and serve immediately.