Raw Spicy Mango Ginger Soup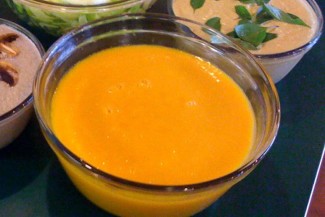 Raw Spicy Mango Ginger Soup recipe from Down to Earth Organic and Natural.
Ingredients
1 large mango, peeled and chopped
½ cup chopped onion
¼-½ cup water
¼ teaspoon cayenne pepper
Juice of 1 lime
½ teaspoon grated fresh ginger
Instructions
Combine all ingredients in a food processor and mix until smooth and creamy.
Add ¼-½ cup of water depending on how thick you like your soup.
Serve in your favorite bowl and enjoy!