Gazpacho (Cold Tomato Soup)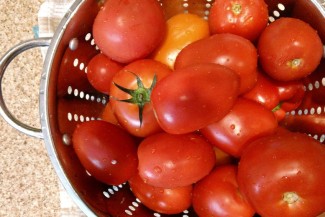 Gazpacho is a traditional Spanish soup that is perfect served during warm weather. There are a million flavor variations possible, so play with your favorite herbs & spices and make this soup your own.
Ingredients
2 cups finely chopped cucumber (about 1 medium)
2 cups finely chopped celery
1 red bell pepper, seeded and chopped
¼ cup finely chopped red onion
3 tomatoes, roughly chopped
1 garlic clove
3½ cups tomato juice
¼ cup extra virgin olive oil
¼ cup red wine vinegar
1 teaspoon each salt and black pepper (more to taste)
Instructions
Set aside 1 cup chopped cucumber, 1 cup pepper, and 1 cup celery. Add these vegetables to a large bowl and set aside.
Add remaining cucumber, pepper, celery, along with onion tomatoes, and garlic to food processor. Blend until smooth.
Add processed vegetables to reserved vegetables, along with tomato juice, olive oil, vinegar, and salt/pepper. Stir to combine, and leave mixture in refrigerator for six hours or overnight.
Enjoy Gazpacho cold alongside flatbread or a simple side salad!