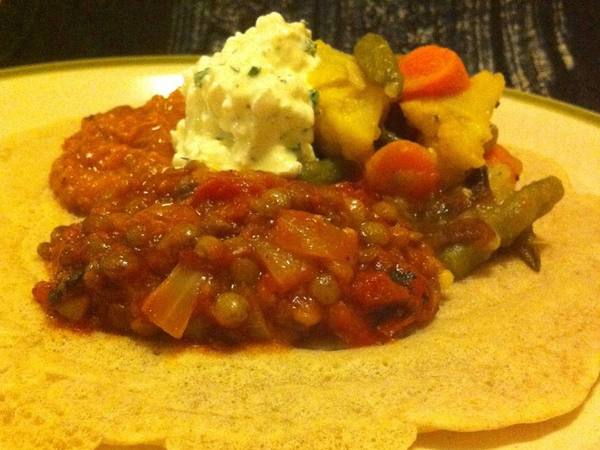 Ethiopian Yemiser W'et
This exotic lentil stew can be served as is or poured on top of Injera Bread.
Updated: Tue, 05/01/2018 - 7:35am
Ingredients
1 cup dried lentils
Water
1 medium onion, finely chopped
2 cloves garlic, minced
1 teaspoon ground cumin
1 teaspoon Hungarian paprika
2 medium tomatoes, finely chopped
1 (6-ounce) can organic tomato paste
1 cup vegetarian stock
Salt and pepper to taste
Plain yogurt or cottage cheese
Instructions
Place lentils in a small saucepan covered with about ½" water. Bring to a boil. Reduce heat to low and simmer for 30-45 minutes or until lentils are soft. Remove from heat. Drain and rinse well.
While lentils are cooking, heat a large sauté pan to medium-high heat. Sauté Niter Kebbeh, onions and garlic until onions are translucent.
Add Berbere Spice, cumin and paprika and sauté for a few more minutes.
Mix in chopped tomatoes and tomato paste. Reduce heat and simmer about 5 minutes.
Add vegetarian stock and continue to simmer on low heat.
Add cooked lentils to sauté mixture. Season with salt and pepper. Garnish with cottage cheese or yogurt and enjoy!