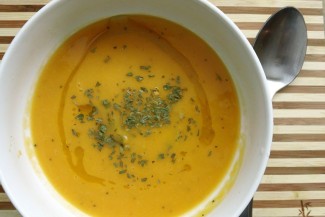 Sour Granny Smith apples pair well with the sweet squash in this low-fat, creamy soup.
Ingredients
6 cups peeled and chopped Butternut squash
4 cups cored and chopped Granny Smith apples
6 cups water
Salt to taste
1 cup unsweetened almond milk (more to taste)
1 Tablespoon olive oil
Fresh or dried herbs, for garnish
Instructions
Add squash and apples to a large stockpot. Cover with water, add a pinch of salt, and bring to a boil.
Reduce heat, cover, and cook until squash and apples are very soft, about 15 minutes. Drain, reserving half the cooking water, and set aside.
Blend squash and apples in food processor until totally smooth, adding almond milk and/or reserved cooking water as needed for texture. Drizzle in olive oil and pulse to combine. Return soup to stockpot to warm. Garnish with herbs and enjoy!