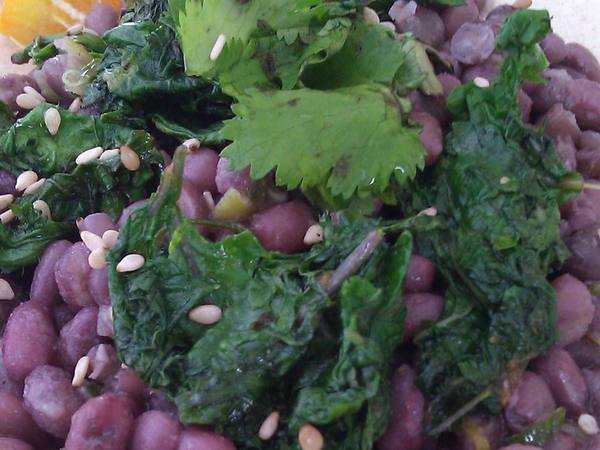 Kale and Adzuki Bean Salad
Kale and Adzuki Bean Salad recipe from Down to Earth Organic and Natural.
Updated: Sun, 09/09/2018 - 8:45am
Ingredients
Adzuki Beans
1 cup dried adzuki beans, sorted and rinsed or 1 (15 ounce) can adzuki beans, drained
Water
Dressing:
1 Tablespoon rice wine vinegar
2 Tablespoons minced shallots
Salt and pepper to taste
¼ cup safflower oil or any other neutral tasting oil
1 teaspoon soy sauce or liquid aminos
1 Tablespoon lemon juice
Salad:
3 cups finely chopped kale, preferably Red Russian
1 cup julienned carrots
1 cup julienned cucumber
1 cup orange slices
1 Tablespoon chopped green onions
1 Tablespoon sliced almonds
1 teaspoon lemon zest
2 teaspoons sesame seeds
Instructions
If using dried adzuki beans, place beans in a large, preferably glass bowl. Dried beans will expand almost double their size while soaking so be sure to have a large enough bowl to accommodate this. Add enough water to cover about 2 inches above the beans. Let soak in refrigerator overnight (or at least 8 hours). Drain and rinse beans thoroughly. Drain again.
Transfer soaked beans or canned beans to a medium saucepan. Cover with 2 inches of water and bring to a boil. Reduce heat and allow the beans to simmer for about 30-45 minutes. If desired, you can add a pinch of salt to beans. Check every 10 minutes until desired doneness is achieved. This is important to also ensure that the beans don't get mushy. If needed, add a ¼ Tablespoon of water accordingly.
While beans are cooking, mix Dressing ingredients together in a large bowl. Set aside.
After beans are done, drain them and add to Dressing while still hot. Gently toss. Let cool to room temperature.
Add kale, carrots, and cucumber to bean mixture. Toss gently.
Place salad in serving dish and garnish with the orange slices, almonds, lemon zest, and sesame seeds. Enjoy!