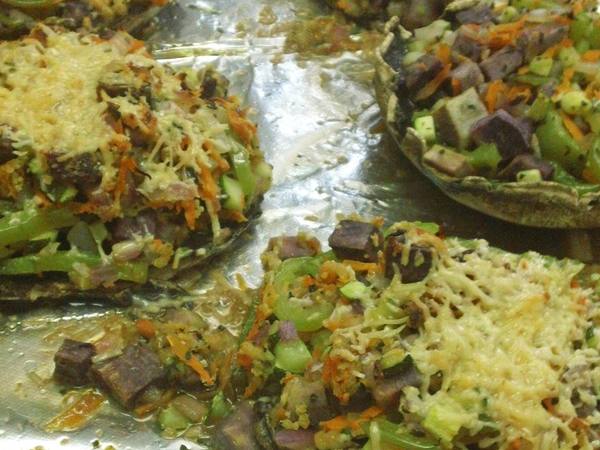 Stuffed Portobello Mushrooms with Okinawan Sweet Potato
Stuffed Portobello Mushrooms with Okinawan Sweet Potato Recipe from Down to Earth Organic and Natural
Updated: Sun, 02/03/2019 - 7:19am
Ingredients
Olive oil + 2 Tablespoons
4 Portobello mushrooms
1¼ cup diced Okinawan sweet potato
¾ cup diced red onion
4-5 garlic cloves
¾ cup finely diced zucchini
⅔ cup grated carrot
1 cup sliced bell pepper
1½ teaspoon dried basil
1 Tablespoon rice vinegar
Salt and pepper to taste
⅓ cup bread crumbs
½ cup shredded Parmesan cheese, divided or vegan equivalent
Balsamic vinegar
Instructions
Preheat oven to 425°. Line a baking sheet with foil and coat with olive oil.
Wash mushrooms thoroughly. Remove stems and gills and pat dry. Arrange on baking sheet.
Heat 2 Tablespoons olive oil in a large skillet over medium-high heat. Add Okinawan sweet potato, onion, garlic, zucchini, carrot and bell pepper.
Sauté for 5-6 minutes. Add basil, vinegar, salt and pepper. Mix well.
Cook for 4-5 minutes more. Remove from heat. Fold in bread crumbs and ¼ cup Parmesan cheese.
Lightly drizzle balsamic vinegar and olive oil over mushrooms.
Divide sweet potato mixture between mushrooms caps.
Bake for 15 minutes.
Sprinkle with remaining Parmesan cheese. Bake a few more minutes or until the cheese melts. Enjoy!