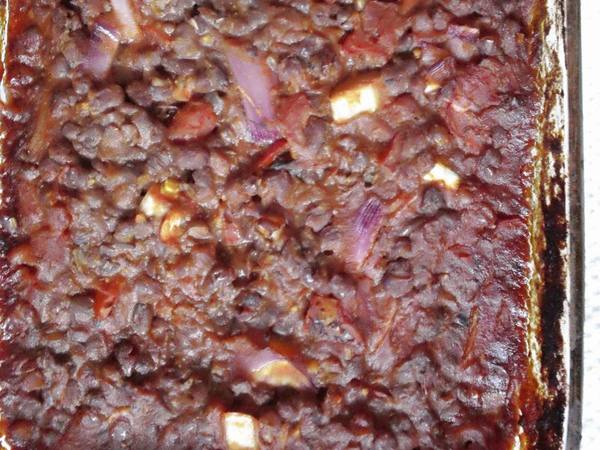 Miso-Sesame Baked Beans
These Asian-inspired baked beans make a great potluck dish, or you can keep them in your fridge for a week of good meals!
Updated: Fri, 05/04/2018 - 7:52am
Ingredients
1 cup adzuki beans, soaked overnight
1-inch piece kombu seaweed
1 (15-ounce) can of crushed or diced tomatoes
3 Tablespoons coconut sugar
2 Tablespoons red miso
1-2 Tablespoons tamari
1 Tablespoon toasted sesame oil
1 Tablespoon apple cider vinegar
¼ teaspoon liquid smoke
¼ cup minced red onion
2-3 cloves garlic, smashed
1 teaspoon each smoked salt and black pepper
Sesame seeds for garnish
Instructions
Drain and rinse beans. Add beans and kombu to a large stockpot and cover with water. Bring to a boil, then lower heat and simmer for 30 minutes, or until beans are soft. Drain, and set aside.
In a large bowl mix tomatoes, sugar, miso, tamari, sesame oil, vinegar, and smoke until miso is dissolved. Add onion, garlic, salt, and pepper and stir to combine.
Pour tomato mixture into an 8×8 baking dish, and then add beans. Stir to coat. Cover with foil and bake for 30 minutes. Uncover, stir, and bake 20 minutes longer. Most of the liquid should be absorbed, and edges starting to brown. Serve alongside grains, salads, greens, or in wraps! Enjoy!