Broccoli Artichoke Cream Sauce w/ Red Cabbage "Noodles"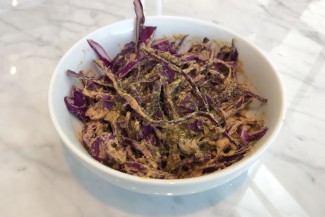 Rich and flavorful like an alfredo sauce, but won't leave you feeling over–indulged
Ingredients
1 cup broccoli
1 Tablespoon oil (grapeseed, avocado, safflower, etc.)
1 (16 ounce) can artichoke hearts
¼ cup sundried tomatoes
½ cup nutritional yeast
3-4 cloves garlic
Juice of 1 lemon
¾ cup vegetable broth
½ cup coconut cream (unsweetened)
1 teaspoon salt
1 teaspoon pepper
Noodles:
Instructions
In a skillet over medium heat, sauté broccoli with oil until browned.
Add broccoli to a blender along with artichoke hearts, sundried tomatoes, nutritional yeast, garlic, lemon juice, vegetable broth, coconut cream, salt, and pepper. Blend until smooth and creamy.
Optional: transfer sauce to a pot and heat until warm.
Cut red cabbage in half. With flat side against the cutting board, thinly slice the cabbage to create "noodles".
Pour a hearty amount of sauce over red cabbage noodles, enjoy!