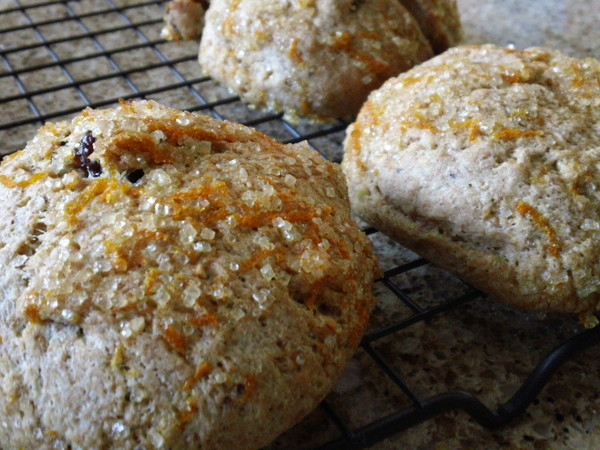 Almond Spelt Sweet Rolls
Spelt flour makes a beautifully light bread; the accents of orange and almond make it super flavorful and fancy!
Updated: Tue, 04/03/2018 - 7:53am
Ingredients
⅔ cup unsweetened almond milk
2 tablespoons vegan margarine
3 tablespoons agave nectar
1 teaspoon pure almond extract
⅓ cup ground toasted almonds
½ teaspoon fine sea salt
2½ cups whole-grain spelt flour (plus more for kneading)
1 (7-gram) package active dry yeast
⅓ cup raisins or currants
½ teaspoon olive oil
Dipping Mixture:
3 tablespoons extra virgin olive oil
3 tablespoons large-grain raw sugar
2 teaspoons orange zest
Instructions
Warm almond milk and margarine in a saucepan over low heat until warm to the touch (about 100º- do not boil and do not overheat). Whisk in agave, almond extract, ground almonds, and salt until combined. Set aside.
In a large bowl combine flour and yeast. Add wet ingredients into dry and stir gently but firmly to combine. Prepare a work surface with extra flour and turn out dough. Knead for 2 minutes, adding more flour as needed to maintain a smooth texture. Add raisins and knead for another 2-3 minutes, until the dough becomes smooth and pliable. Shape into a ball.
Lightly coat a bowl with olive oil and add dough to bowl, turning to coat with oil. Cover tightly with plastic wrap, and let rise in a warm area for one hour.
For the Dipping Mixture: Combine olive oil, sugar, and orange zest in a medium sized bowl. Set aside.
Preheat oven to 350° and layer a 9x13 baking pan with parchment paper.
Punch down the dough and divide into 8 equal portions.
Gently roll dough into balls and dredge in Dipping Mixture, covering the dough entirely. Evenly space dough balls in pan.
Loosely cover with plastic wrap and let rest for 15-20 minutes, or until doubled in size. Remove plastic and bake for 20-25 minutes, or until golden brown and dry looking on top. Transfer to a wire rack and let cool completely. These sweet rolls are best on the first day, but can be frozen too! Enjoy!