Polenta Pizza with Roasted Vegetable Mash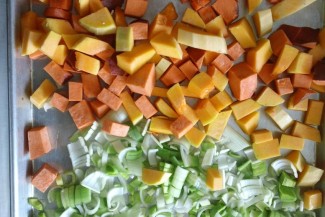 Use your favorite mixture of vegetables for this flavorful side dish.
Ingredients
Polenta Pizza
1½ cups vegetable broth
1 cup unsweetened non-dairy milk
1 cup polenta (course-ground cornmeal)
½ teaspoon salt each black pepper and dried basil
½ cup shredded cheese (dairy or vegan)
Roasted Vegetable Mash
3 cups chopped squash or sweet potato
2 cups thinly sliced leeks
1 cup chopped carrots
2 Tablespoons olive oil
Sea salt and pepper to taste
1 Tablespoon maple syrup
1 Tablespoon Balsamic vinegar
Instructions
To make the Polenta Pizza: Bring broth and milk to a low boil in a medium saucepan. Add polenta, pepper and dried basil. Simmer over very low heat for 20 minutes, stirring constantly. Turn off heat and let stand 10 minutes. Stir in cheese until melted completely.
Pour polenta into a 9x13 baking dish, spreading evenly. Chill for five hours or overnight until firm.
Meanwhile, prepare the Roasted Vegetable Mash: Preheat oven to 375° and add all the vegetables to a large bowl. Toss with 2 Tablespoons olive oil, salt, and pepper. Toss to coat.
Pour vegetables onto a baking sheet and bake for 30 minutes. Toss vegetables and bake 5 minutes more, or until veggies are fork-tender. In a small bowl, whisk together maple syrup and vinegar. Set aside.
Immediately after removing vegetables from the oven, pour on dressing and stir quickly to coat. Let stand at least 10 minutes to cool. Blend in processor or mash with a potato masher to make a chunky paste. Add some water or milk if you would like a creamier texture.
When polenta is firm (see note), spread Roasted Vegetable Mash on top. Cut into squares and serve warm or at room temperature. Enjoy!
Note: If you choose to use a non-dairy cheese, the polenta may not firm up entirely. The polenta can be baked to make a firmer texture. Simply preheat the oven to 350º and bake for 15-20 minutes, until polenta is firm to the touch and can be cut into firm squares. Then proceed with step 6.