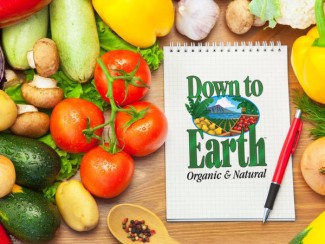 Sesame Ginger Quinoa recipe from Down to Earth Organic and Natural.
Ingredients
1 Tablespoon sesame oil
1 cup quinoa, rinsed and drained
2 cups vegetable broth
1 Tablespoon soy sauce or liquid aminos
1 Tablespoon minced fresh ginger
1 clove garlic, minced
½ cup minced onions
½ cup thinly sliced mushrooms
2 teaspoons minced lemongrass
2 teaspoons chopped green onions
Instructions
Heat sesame oil in a saucepan over medium heat.
Add quinoa and toast for 3-4 minutes.
Add vegetable broth, soy sauce, ginger, garlic, onions, mushrooms and lemongrass to saucepan and bring to a boil.
Turn heat to low, cover and let simmer for 12-15 minutes or until the quinoa has absorbed all the liquid.
Fluff with a fork and transfer to a serving bowl.
Top with green onions. Enjoy!