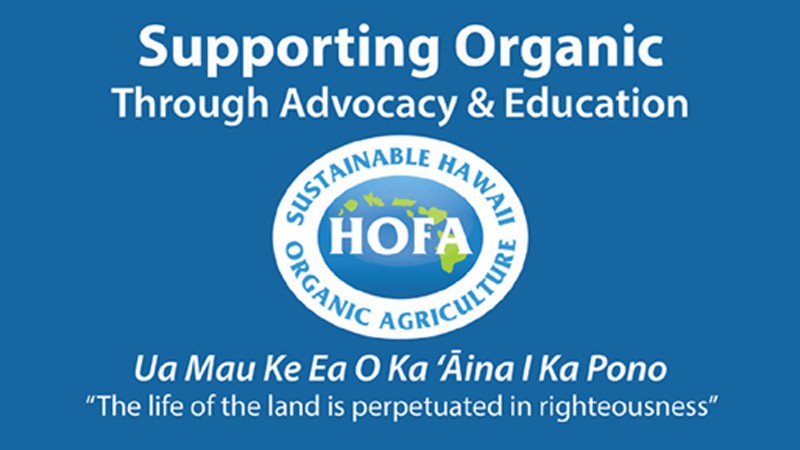 Hawaii Organic Farming Association (HOFA)
HOFA is a non-profit organization that supports organic farming and sustainability in Hawaii through education and advocacy.
HOFA's vision is to create a sustainable future for Hawaii. Its mission is to further organic and sustainable agriculture, land care, and lifestyles in Hawaii, thus giving meaning and life to the Hawaii state motto:
Ua mau ke ea o ka aina I ka pono "The Life of the Land is Perpetuated in Righteousness."
HOFA is governed by a diverse and dynamic Board of Directors who collectively provide broad geographic representation from both public and private sectors of the community. Directors volunteer their time, working to oversee the policy, direction and activities of HOFA.
The HOFA Board of Directors represents a wide variety of organizations to ensure that multiple aspects and interests are represented within HOFA. Among the organizations represented on the HOFA board are Seeds of Truth, Label it Hawaii, Hawaii Farmers Union United, Vegetarian Society of Hawaii, Kona Coffee Farmers Association, GMO- Free Oahu, and GMO-Free Maui.
Down to Earth's CEO/CFO and Chief Organic Officer, Mark Fergusson is President of HOFA. As such, he testifies at the legislature in support of numerous bills. Written testimony is also submitted to support bills, such as those calling for: the labeling of foods containing GMOs; income tax exemption on the first $50,000 of farm based income; support for organic farmers; and many others. To learn more about HOFA, visit: Hawaii Organic Farming Association (HOFA)