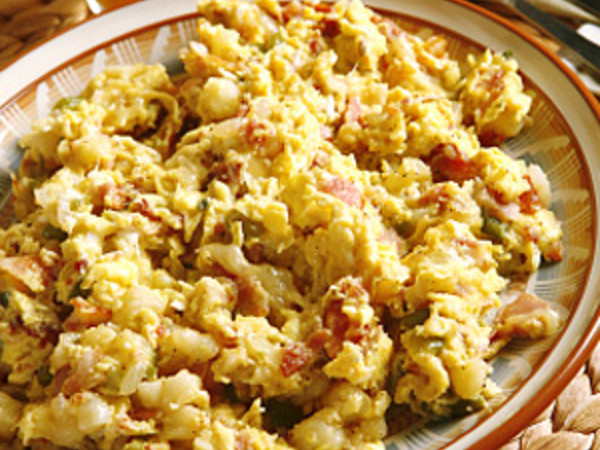 Scrambled Tofu with "Bacon"
Updated: Wed, 02/21/2018 - 10:42pm
Ingredients
½ green bell pepper, diced
½ cup diced onion
4 slices meatless Canadian bacon, cut into strips
1 (14-ounce) block extra firm tofu
Dash of liquid aminos
1 teaspoon turmeric
¾ teaspoon cumin
½ teaspoon coriander
½ teaspoon salt
1 can (14.5-ounces) diced tomatoes, drained
¾ cup olives, sliced
½ cubed cream cheese
Instructions
Heat oil in a frying pan.
Add bell pepper and onion and sauté for a few minutes.
Add "bacon" strips and cook until onions become transparent.
Crumble in tofu and add liquid aminos.
Cook until tofu begins to brown - about 7-10 minutes.
Add in spices, salt, tomatoes, olives and cream cheese. Stir to combine.
Remove from heat and serve. Enjoy!