Vitamin Retailer Magazine
Monday - August 26, 2013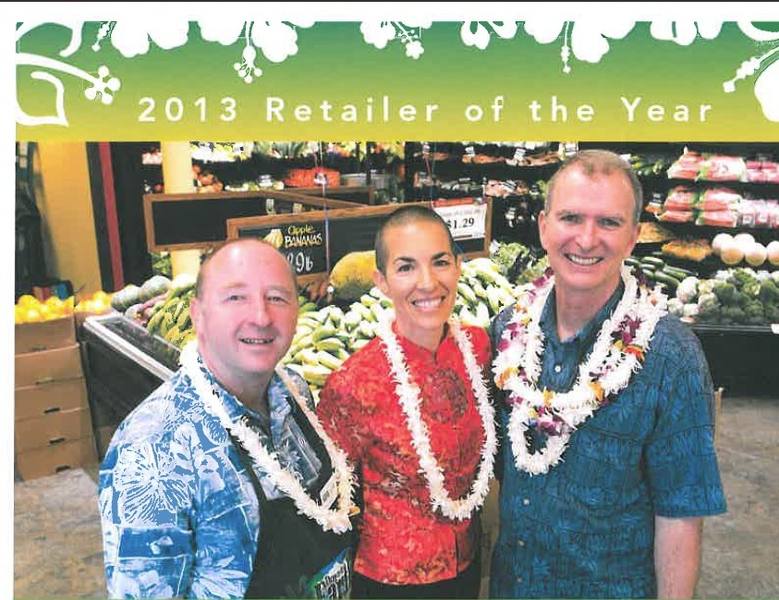 by Janet Poveromo
August 26, 2013
Retailer honors healthy people, animals and environment—Hawaiian style.
Inspired by Hawaii's state motto, "The life of the land is perpetuated in righteousness" (Ua Mau ke Ea o ka 'Aina i ka Pono), the staff at Down to Earth Organic & Natural envisions a Hawaii where all people "cherish the land and live in health and harmony" (E Malama I Ka `Aina, E Ola Pono).
"These Hawaiian language messages are an important part of our culture, and reflect Down to Earth's values," explained Mark Fergusson, the store's "Chief Organic Officer" and CEO/CFO.
Those lofty values had humble beginnings: conceived in 1977, a group of like-minded friends in Wailuku, Maui turned their enthusiasm and passion for organic and natural foods—and their vegetarian values—into a small retail store. "It had concrete blocks and wooden planks for shelves, beaten-up old second- hand equipment, low ceilings and painted concrete floors," Fergusson explained. Since then, Down to Earth has grown and flourished to become an important part of Hawaii's community with five stores throughout the Aloha State: Honolulu, Kailua, Pearlridge and Kapolei on the island of Oahu, and a newly renovated and expanded store in Kahului on Maui.
Renewal & Expansion
Over the 36 years since, the store's growth has been ongoing and impressive. "We started with a small store in Wailuku, Maui in 1977, which we closed in 1997 when we opened at our Kahului location," said Fergusson.
That same year, the owners opened a 600-square-foot store in Honolulu, Oahu, which gradually expanded. Over time it took up the whole ground floor (5,850 square feet) of the building in which it is still located. Eventually it utilized parts of the parking lot and took over the building next door. "We renovated the store in 2008 and today the store uses a total of about 8,000 square feet," he added.
The remodeled Honolulu store reflects the needs and tastes of its customers, who are well-informed, health-conscious and busy, Fergusson noted. The renovations provide a more comfortable shopping experience and the chill, frozen, produce and deli sections were expanded to accommodate a lot of great new products.
"All the elements of the interior design were selected to complement our recently updated logo, which brought our company's story to life," Fergusson explained. "The image of the Diamond Head crater and a local farm scene convey our local Hawaii roots. Crates of produce reflect the store's long-standing ties with local farmers and growers, and emphasize its 'local and fresh' message."